Development planning the arithmetic of planning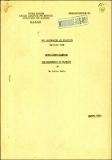 Published
1980-08
Author(s)/Corporate Author (s)
Lewis, Arthur;
United Nations. Economic Commission for Africa. African Institute for Economic Development and Planning(IDEP);

Abstract
The Arithmetic of Planning is the making of the plan should begin simultaneously at its two ends at the individual Project level and at the macroeconomic level. Then the results of these two are adjusted to one another. Work on each project involves both technological and economic investigations. The technologist is concerned with the methods of production, with costings, and with blueprints; the economists with the choice among different methods, with potential markets with the assessment of indirect benefits and interrelationships, and with the appropriate scale and location of output.
Citation
"Lewis, Arthur; United Nations. Economic Commission for Africa. African Institute for Economic Development and Planning(IDEP) (1980-08). Development planning the arithmetic of planning. Dakar. © UN. IDEP. "
Related items
Showing items related by title, author, creator and subject.
Information society : regional dimensions Africa, Europe & North America, Latin America & Caribbean, Asia & Pacific, Western Asia.

United Nations. Economic Commission for Africa.; United Nations. Economic Commission for Latin America and the Caribbean; United Nations. Economic Commission for Latin America and the Caribbean; United Nations. Economic and Social Commission for Asia and the Pacific; United Nations. Economic and Social Commission for Western Asia

"United Nations. Economic Commission for Africa.; United Nations. Economic Commission for Latin America and the Caribbean; United Nations. Economic Commission for Latin America and the Caribbean; United Nations. Economic and Social Commission for Asia and the Pacific; United Nations. Economic and Social Commission for Western Asia (2003). Information society : regional dimensions Africa, Europe & North America, Latin America & Caribbean, Asia & Pacific, Western Asia.. World Summit on the Information Society (1st : 2003 : Geneva, Switzerland). Geneva :. © UN.ECA. http://hdl.handle.net/10855/41101"

Framework for a set of e-government core indicators

United Nations. Economic Commission for Africa.; United Nations. Economic Commission for Latin America and the Caribbean; United Nations. Economic and Social Commission for Asia and the Pacific; United Nations. Economic and Social Commission for Western Asia; Statistical Office of the European Union; International Telecommunication Union; Organisation for Economic Co-operation and Development; United Nations Conference on Trade and Development

"United Nations. Economic Commission for Africa.; United Nations. Economic Commission for Latin America and the Caribbean; United Nations. Economic and Social Commission for Asia and the Pacific; United Nations. Economic and Social Commission for Western Asia; Statistical Office of the European Union; International Telecommunication Union; Organisation for Economic Co-operation and Development; United Nations Conference on Trade and Development (2012). Framework for a set of e-government core indicators. Addis Ababa :. © UN. ECA,. http://hdl.handle.net/10855/25669"

Programme de formation: ateliers de formation de courte durée en gestion économique

United Nations. Economic Commission for Africa. African Institute for Economic Development and Planning(IDEP); United Nations. Economic Commission for Africa. African Institute for Economic Development and Planning(IDEP)

"United Nations. Economic Commission for Africa. African Institute for Economic Development and Planning(IDEP); United Nations. Economic Commission for Africa. African Institute for Economic Development and Planning(IDEP) (2015). Programme de formation: ateliers de formation de courte durée en gestion économique. Dakar. © UN. IDEP. http://hdl.handle.net/10855/22625"