Assessing regional integration in Africa ARIA IX: next steps for the African continental free trade area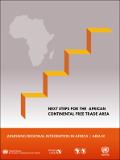 Published
2019
Author(s)/Corporate Author (s)
United Nations. Economic Commission for Africa;
African Union Commission;
African Development Bank;

Abstract
The signing of the African Continental Free Trade Agreement (AfCFTA) by 52 African Union member states marked a historic milestone for economic integration in Africa. By 1 April 2019, just over a year after the signing ceremony, the threshold of ratification by 22 countries required for the agreement's entry into force had been reached. The speed of this ratification process is unprecedented in AU history. The significance of this achievement is not to be underestimated. The vision of African continental integration to which the AfCFTA contributes is more than 50 years old and, as demonstrated in this and previous editions of this report, embodies great opportunities for Africa's structural transformation, economic diversification and development. ARIA IX is buttressed with deep and ground-breaking research into topics of considerable interest for African policy makers, trade negotiators, partners and development stakeholders. For the first time in the ARIA series, the African Union Commission, Economic Commission for Africa, and African Development Bank are joined by the United Nations Conference on Trade and Development in preparing this edition. We believe that the rich and actionable research on the issues covered by the report can advance Africa's development, both in the context of the African Union Agenda 2063 and the United Nations Sustainable Development Goals. We commend it and its findings to those seeking to support Africa in its regional integration, economic transformation and development.
Citation
"United Nations. Economic Commission for Africa; African Union Commission; African Development Bank (2019). Assessing regional integration in Africa ARIA IX: next steps for the African continental free trade area. Addis Ababa. © UN. ECA. "
Related items
Showing items related by title, author, creator and subject.