Energy crisis in Southern Africa: future prospects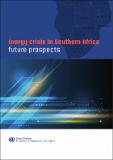 Published
2018-12
Author(s)/Corporate Author (s)
United Nations. Economic Commission for Africa;

Abstract
The Southern African Development Community (SADC) region is endowed with natural resources such as coal, water, biomass, solar and wind, used for energy. Unfortunately, the energy sector is plagued with challenges such as low access; power shortages; constrained and ageing infrastructure; lack of funding for infrastructure; low tariffs, poor project preparation; weak energy policy and regulatory instruments; over-reliance on coal, which runs contrary to global efforts to curb greenhouse gas emissions; reliance on hydro-power, which is highly susceptible to climate change, as demonstrated by the current drought; revenue collection, affordability and policy and regulatory shortcomings that impede the development of renewable energy. The power crisis, which began in 2008, jolted the region into action, leading to the introduction of new policies and planning frameworks and development of new generation and transmission projects. The present report is the modest contribution of ECA to unlocking the future of Africa in the energy realm. Moreover, the present report is commended to the general reader interested in Africa's concerted efforts to create a new future for itself and a better tomorrow for the continent's coming generations. The paper is divided into four sections, starting with the "Introduction and background", which analyses the socioeconomic environment in all SADC countries, and ending with an assessment of the institutional structure within which the energy sector in the region operates in. From section II on wards, the focus is on the member States of SADC since they are interconnected or are in the process getting interconnected through electric infrastructure making the analysis much more comprehensible. The paper focuses on electric energy, a prominent sector for all the national economies.
Citation
"United Nations. Economic Commission for Africa (2018-12). Energy crisis in Southern Africa: future prospects. Addis Ababa. © UN.ECA. "
Related items
Showing items related by title, author, creator and subject.