Background paper on strengthening the means of implementation and the partnership for sustainable development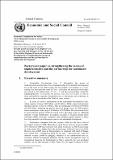 Published
2019-03
Author(s)/Corporate Author (s)
United Nations. Economic Commission for Africa;
United Nations. Economic and Social Council;

Abstract
Sustainable development goal 17 lies at the heart of the 2030 agenda for sustainable development as a crosscutting goal that spans the other 16 goals. Innovative and universal partnerships are crucial to the achievement of goal 17, and those partnerships should be complemented by governments, the private sector and civil society in order to share and mobilize expertise, financial resources, knowledge and technology in support of the achievement of the goals in every country. In terms of resource mobilization for the sustainable development goals, Africa requires between $500 billion and $1 trillion. While annual infrastructure spending amounts to about $72 billion, there are annual gaps of between $50 billion and $93 billion. Achieving the goal of universal energy access by 2025 requires annual investments in the range of $30 billion to $55 billion. The current ratio of tax to gross domestic product (GDP) in Africa is low, providing scope for additional domestic revenue mobilization. In addition, measures to increase foreign direct investment (FDI), encourage remittances and strengthen capital markets in Africa have the potential to yield increased resources for sustainable development. A brief overview of the current status, existing and emerging challenges and the actions being undertaken and/or the possible way to address the needs is provided. Highlights of progress and achievement to date are structured into the following five major themes: finance; technology; capacity-building; trade; and systemic issues.
Citation
"United Nations. Economic Commission for Africa; United Nations. Economic and Social Council (2019-03). Background paper on strengthening the means of implementation and the partnership for sustainable development. UN. ECA Africa Regional Forum on Sustainable Development(5th session:2019, Apr. 16 - 19:Marrakech, Morocco). Addis Ababa. © UN.ECA. "
Conference
UN. ECA Africa Regional Forum on Sustainable Development(5th session:2019, Apr. 16 - 19:Marrakech, Morocco)
Related items
Showing items related by title, author, creator and subject.
Fourteenth meeting of the conference of African ministers of industry: report

United Nations. Economic and Social Council; Organization of African Unity; United Nations. Economic Commission for Africa; United Nations. Industrial Development Organization

"United Nations. Economic and Social Council; Organization of African Unity; United Nations. Economic Commission for Africa; United Nations. Industrial Development Organization (1999-11). Fourteenth meeting of the conference of African ministers of industry: report. UN.ECA Conference of African Ministers of Industry (14th: 1999, October 22-23 : Dakar, Senegal). Addis Ababa:. © UN. ECA,. http://hdl.handle.net/10855/1835"

Draft introduction to the medium term plan beginning 1992

United Nations. Economic and Social Council; United Nations. Economic Commission for Africa

"United Nations. Economic and Social Council; United Nations. Economic Commission for Africa (1989-08). Draft introduction to the medium term plan beginning 1992. UN. ECA Ad Hoc Committee on the Draft Medium-Term Plan, 1992-1997 Meeting. (1989: Oct. 9 - 11 : Addis Ababa, Ethiopia). Addis Ababa. © UN. ECA. http://hdl.handle.net/10855/20747"