Report of the Regional Conference on Corruption and the Challenge of Economic Transformation in Southern Africa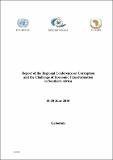 Published
2018-06
Author(s)/Corporate Author (s)
United Nations. Economic Commission for Africa. Sub regional office for Southern Africa;

Abstract
The African Union had declared 2018 as the year of anti-corruption under the theme "Winning the fight against corruption: a sustainable path to Africa's transformation". This regional conference on corruption and the challenge of economic transformation in Southern Africa, was held in Gaborone from 18 to 20 June 2018.The conference was centered on this declaration. The debates focused on the realization that the goal of economic transformation remains elusive, even though African leaders have crafted economic development blueprints. These initiative are bolstered by national development plans in different African countries. Some of the issues that have stalled African efforts at radical economic transformation are policy inconsistency, governance challenges, leadership inertia and, more importantly, corruption. The regional conference has provided a platform for rigorous intellectual debate and policy dialogue on the issue of corruption in Southern Africa and how it could be addressed. The conference brought together high-caliber scholars, policymakers, political leaders, civil-society organizations, and regional and international institutions, with the objective to synthesize workable solutions to reduce if not eliminate corruption in order to foster inclusive economic transformation capable of addressing the socioeconomic problems brought about by corruption.
Citation
"United Nations. Economic Commission for Africa. Sub regional office for Southern Africa (2018-06). Report of the Regional Conference on Corruption and the Challenge of Economic Transformation in Southern Africa. Addis Ababa. © UN. ECA. "
Related items
Showing items related by title, author, creator and subject.
Gender mainstreaming activities during 2000-2001

United Nations. Economic and Social Council; United Nations. Economic Commission for Africa; United Nations. Economic Commission for Africa. African Centre for Women; United Nations. Economic Commission for Africa. Subregional Development Centre for Southern Africa (ECA/SRDC-SA)

"Lomayani, Irene Bertha; United Nations. Economic and Social Council; United Nations. Economic Commission for Africa; United Nations. Economic Commission for Africa. African Centre for Women; United Nations. Economic Commission for Africa. Subregional Development Centre for Southern Africa (ECA/SRDC-SA) (2001-11). Gender mainstreaming activities during 2000-2001. UN. ECA Committee on Women and Development (CWD) Meeting (2001, novembre 5 - 8 : Addis Abeba, Ethiopie). Addis Ababa :. © UN. ECA,. http://hdl.handle.net/10855/14076"

Report of the high-level brainstorming meeting of African trade negotiators preparatory to the fifth WTO ministerial Conference

United Nations. Economic Commission for Africa. Regional Cooperation and Integration Division; United Nations. Economic Commission for Africa. Regional Cooperation and Integration Division; Organized jointly by the Economic Commission for Africa and the African Union in collaboration with the United Nations Conference on trade and development, the African Economic Research Consortium, and the Southern Africa Trade Research Network

"United Nations. Economic Commission for Africa. Regional Cooperation and Integration Division; United Nations. Economic Commission for Africa. Regional Cooperation and Integration Division; Organized jointly by the Economic Commission for Africa and the African Union in collaboration with the United Nations Conference on trade and development, the African Economic Research Consortium, and the Southern Africa Trade Research Network (2001). Report of the high-level brainstorming meeting of African trade negotiators preparatory to the fifth WTO ministerial Conference. Addis Ababa:. © ECA,. http://hdl.handle.net/10855/40838"

A snapshot of cross-border trade along the Abidjan-Lagos Corridor

United Nations. Economic Commission for Africa; United Nations. Economic Commission for Africa. Regional Integration and Trade Division. African Trade Policy Center; United Nations. Economic Commission for Africa; United Nations. Economic Commission for Africa. Regional Integration and Trade Division. African Trade Policy Center

"United Nations. Economic Commission for Africa; United Nations. Economic Commission for Africa. Regional Integration and Trade Division. African Trade Policy Center; United Nations. Economic Commission for Africa; United Nations. Economic Commission for Africa. Regional Integration and Trade Division. African Trade Policy Center (2020). A snapshot of cross-border trade along the Abidjan-Lagos Corridor. Addis Ababa. © UN. ECA. https://repository.uneca.org/handle/10855/43680"