Economic Report on Africa 2019: fiscal policy for financing sustainable development in Africa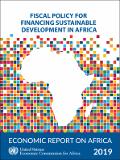 Published
2019
Author(s)/Corporate Author (s)
United Nations. Economic Commission for Africa;

Abstract
Transitioning to the Africa we want is within our reach. Africa is making steady progress in building the critical ingredients for sustainable and resilient societies, but progress towards achieving the Sustainable Development Goals (SDGs) is slow and uneven across the continent. Access to basic infrastructure such as energy, water and sanitation services is improving but falls well below the global average. This report provides an evidence-based assessment of the nature and performance of fiscal policy in Africa. It analyses both challenges and opportunities and identifies best practices in order to draw policy recommendations and facilitate exchange of experiences. This can help member states to undertake necessary fiscal policy reforms and improve macroeconomic management. The report addresses critical questions of fiscal policy and financing of the SDGs in Africa. These include the nature and role of fiscal policy; the potential of fiscal policy, including tax and non-tax revenue, to enhance domestic resource mobilization; and the role of fiscal policy in macroeconomic management and achievement of the SDGs. The report examines the key opportunities as well as the challenges in making fiscal policy more effective and efficient and offers policy lessons and recommendations to inform fiscal policy reforms in Africa.
Citation
"United Nations. Economic Commission for Africa (2019). Economic Report on Africa 2019: fiscal policy for financing sustainable development in Africa. Addis Ababa. © UN. ECA. "
Related items
Showing items related by title, author, creator and subject.