Offsetting the negative impact of climate change on agriculture in the Economic Community of West African States:policy brief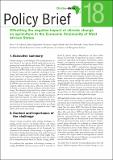 Published
2019
Author(s)/Corporate Author (s)
United Nations. Economic Commission for Africa;
African Union Commission;
African Development Bank;

Abstract
Climate change is acknowledged to be among the most serious threats to the capacity of food supply systems to meet growing food needs. Indeed, it is predicted that agriculture in the countries of the Economic Community of West African States will be seriously affected by climate change and the magnitude, and impact of that change will vary based on location. Agricultural crops in those countries are irrigated primarily by rain and are thus heavily dependent on climatic conditions. The use of technology and improved seed varieties is not widespread in the ECOWAS region, and the production of paddy rice, maize, sorghum, millet, oil seeds, cocoa, coffee and sesame is likely to decline in scenarios of both moderate and harsh climate change. The adoption of high-yield crop varieties is therefore necessary in all ECOWAS countries in order to offset the impact of climate change. It is also critically important to adopt improved irrigation and other technologies and to facilitate access to extension services to complement the adoption of high-yield crop varieties. Furthermore, Governments must advocate for international action to reduce greenhouse gas emissions to ensure that their populations enjoy a high quality of life in the years ahead.
Citation
"United Nations. Economic Commission for Africa; African Union Commission; African Development Bank (2019). Offsetting the negative impact of climate change on agriculture in the Economic Community of West African States:policy brief. Policy brief;. 18, 4 p.. Addis Ababa. © UN.ECA. "
Serial Title
Policy brief;
Related items
Showing items related by title, author, creator and subject.