Climdev-Africa youth platform:empowering African youth for climate change Dialogue and Response Actions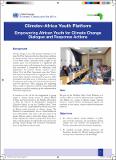 Published
2016
Author(s)/Corporate Author (s)
United Nations. Economic Commission for Africa;

Abstract
Climate change is one of the greatest challenges of our time. The Paris Agreement lays out long-term ambitions for climate change response and urges the engagement of non-State actors, especially young people, in the solution space. This development is a significant shift in promoting equity and inter-generational participation that necessitates a framework for enhancing youth preparedness for national climate response actions. Thus, engaging and supporting African youth on all fronts of climate change leadership and action is crucial for speeding up the implementation of the Paris Agreement. the Climate for Development Programme (ClimDev-Africa) set up the ClimDev-Africa Youth Platform in 2015 as a regional platform for the interaction of African youth networks on climate change. The Platform is a transformative, one-of-a-kind intellectual and social platform that seeks to develop, connect and inspire African youth to deal with climate change. It brings together the brightest young minds from across Africa and the diaspora to help resolve some of the most pressing climate change and sustainable development issues facing African nations today. The objectives of the ClimDev-Africa Youth Platform are to enhance climate change dialogues in public and university campuses, and mainstream climate change into the curricula and programs of African universities and other tertiary institutions. To establish networks, dialogue platforms and discussion forums for African young people for sharing climate information and knowledge.
Citation
"United Nations. Economic Commission for Africa (2016). Climdev-Africa youth platform:empowering African youth for climate change Dialogue and Response Actions. Addis Ababa. © UN.ECA. "
Related items
Showing items related by title, author, creator and subject.
Indice africain de développement social indice africain de développement social (IADS): mesure de l'exclusion humaine dans une optique de transformation structurelle

Nations Unies. Commission Economique pour l'Afrique. Division des politiques de développement social. Section de l'emploi et de la protection sociale; Nations Unies. Commission Economique pour l'Afrique. Division des politiques de développement social. Section de l'emploi et de la protection sociale

"Nations Unies. Commission Economique pour l'Afrique. Division des politiques de développement social. Section de l'emploi et de la protection sociale; Nations Unies. Commission Economique pour l'Afrique. Division des politiques de développement social. Section de l'emploi et de la protection sociale (2017-11). Indice africain de développement social indice africain de développement social (IADS): mesure de l'exclusion humaine dans une optique de transformation structurelle. Addis Abeba:. © NU. CEA,. "

Document de référence sur le sous-thème: «éliminer toutes les formes de pauvreté en Afrique»

Nations Unies. Commission Economique pour l'Afrique; Nations Unies. Conseil Economique et Social; Nations Unies. Commission Economique pour l'Afrique; Nations Unies. Conseil Economique et Social

"Nations Unies. Commission Economique pour l'Afrique; Nations Unies. Conseil Economique et Social; Nations Unies. Commission Economique pour l'Afrique; Nations Unies. Conseil Economique et Social (2017-05). Document de référence sur le sous-thème: «éliminer toutes les formes de pauvreté en Afrique». NU. CEA Forum régional africain pour le développement durable (3ème: 2017, 17-19 mai: Addis Abeba, Ethiopie). Addis Abeba. © NU. CEA. "