Compendium of Intra-African and Related Foreign Trade Statistics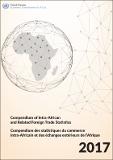 Published
2017
Author(s)/Corporate Author (s)
United Nations. Economic Commission for Africa;

Abstract
This is the ninth edition of the compendium of intra-African and related foreign trade statistics. The compendium was produced by the Economic Commission for Africa (ECA) from 1997 to 2005 on a biennial basis before being discontinued. The African Center for Statistics (ACS) of ECA restarted producing the compendium in 2011; this is the 2017 edition. This compendium has been compiled to provide quality and timely statistical data for analysis and research on economic issues related to intra-African trade, as well as for the monitoring and evaluation of trade policies in general. It is intended to serve the needs of researchers and policy makers, who work on trade issues as well as the public at large. This 2017 edition is the ninth in the series, which was first produced in 1997, with a break from 2006 to 2010. The compendium presents foreign trade data in sixteen chapters for all African countries from 2008 to 2016. It presents information on total, share, direction, and evolution of African trade. Focusing on intra-African trade, related statistical data of trade flows are grouped by region, sub regions, and regional economic communities or (RECs) in Africa. Furthermore, data on intra-African trade have been provided by Standard International Trade Classification (SITC) at section level for all African countries, as well as intra and inter REC trade.
Citation
"United Nations. Economic Commission for Africa (2017). Compendium of Intra-African and Related Foreign Trade Statistics. Addis Ababa. © UN. ECA. "
Related items
Showing items related by title, author, creator and subject.