African Continental Free Trade Area: Phase II negotiations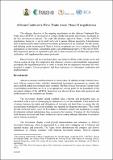 Published
2018
Author(s)/Corporate Author (s)
United Nations. Economic Commission for Africa;
African Union Commission;

Abstract
The ultimate objective of the ongoing negotiations on the African Continental Free Trade Area (AfCFTA) is the creation of a single market for goods and services, facilitated by the free movement of persons. The trade liberalization agreed in Phase I of the AfCFTA negotiations, however, is not in itself sufficient to power African prosperity. Liberalization must be buttressed by improvements to economic governance on the continent. For this reason, and building on the momentum of Phase I, African negotiators are set to commence Phase II negotiations on investment, competition policy and intellectual property by the end of 2018. This negotiation process is expected to give rise to three separate sets of rules that, upon their ratification, will supplement the current protocols. Phase II issues will have profound direct and indirect effects on the private sector and African society at large. It is imperative that advocacy activities and stakeholder engagement accompany the negotiation process in order to ensure that the negotiated outcomes are well designed to support African prosperity and have legitimacy for subsequent ratification and implementation.
Citation
"United Nations. Economic Commission for Africa; African Union Commission (2018). African Continental Free Trade Area: Phase II negotiations. Addis Ababa. © UN. ECA. "
Related items
Showing items related by title, author, creator and subject.