Brief on e-commerce in Africa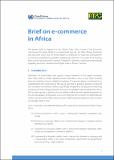 Published
2018
Author(s)/Corporate Author (s)
United Nations. Economic Commission for Africa. Regional Integration and Trade Division. African Trade Policy Center;

Abstract
Definitions of e-commerce can capture various elements of the digital economy, from online sales to wholly digital products and trade in data, or new trade resulting from the adoption of novel digital technologies. The present paper is anchored to an understanding of e-commerce as "the sale or purchase of goods or services, conducted over computer networks by methods specifically designed for the purpose of receiving or placing of orders". This includes goods or services that are ordered online, but with physical payment or the ultimate delivery of the goods or services. This type of e-commerce is defined by the method of placing the order, which excludes orders made by telephone calls, facsimile or manually typed e-mail. The present brief is aimed at outlining the state of play regarding electronic commerce and digital trade in African countries.
Citation
"United Nations. Economic Commission for Africa. Regional Integration and Trade Division. African Trade Policy Center (2018). Brief on e-commerce in Africa. Addis Ababa. © UN. ECA. "
Related items
Showing items related by title, author, creator and subject.