ECA-60 years in step with African development 1958-2018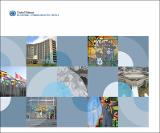 Published
2018-12
Author(s)/Corporate Author (s)
United Nations. Economic Commission for Africa;

Abstract
ECA was Africa's first international, continent wide organization. For five years from its establishment to the founding of the Organization of African Unity in 1963, it was one of the regional forums for waging critical battles for economic progress on the continent and against colonialism, racism and racial exploitation. Sixty years on, the Commission continues to promote economic and social development in Africa, with a focus on collecting up to date and original regional statistics on various economic and social aspects to help African Governments base their policy research and advocacy on objective evidence. Over the last six decades, there have been many developments on the continent and a shift from a doctrine of political liberation through one of self-determination, to a pan African economic agenda uniting all the children of the African soil. ECA in these six decades has been at the front row seat in Africa's development agenda: from the establishment of the Organization of African Unity to the creation of the African Development Bank and today, the African Agency for Development. This book takes you through its privileged story made possible through the confidence of continental leaders, the hospitality of host country, and the trust of young men and women who have shaped our thinking, challenged our views and inspired us to continue walking with Africa towards an inclusive free, integrated and just Africa.
Citation
"United Nations. Economic Commission for Africa (2018-12). ECA-60 years in step with African development 1958-2018. Addis Ababa. © UN.ECA. "
Related items
Showing items related by title, author, creator and subject.
Rapport du séminaire régional sur l'énergie solaire en Afrique

Nations Unies. Commission Economique pour l'Afrique; Nations Unies. Conseil Economique et Social

"Nations Unies. Commission Economique pour l'Afrique; Nations Unies. Conseil Economique et Social (1979-02). Rapport du séminaire régional sur l'énergie solaire en Afrique. NU. CEA Séminaire régional sur l'énergie solaire (1979, jan. 8-13 : Niamey, République du Niger). Addis Ababa :. © UN. ECA,. http://hdl.handle.net/10855/13970"