Africa sustainable development report 2018: towards a transformed and resilient continent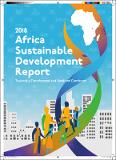 Published
2018-11
Author(s)/Corporate Author (s)
United Nations. Economic Commission for Africa;
African Union Commission;
United Nations Development Programme;
African Development Bank;

Abstract
The Africa Sustainable Development Report 2018 reviews Africa's performance on five goals, and related targets and indicators of the 2030 Agenda, taking into account their correspondence with Agenda 2063. The report uses the latest data from international sources to track performance and highlight lessons learned in the implementation of the two agendas. In line with the theme of the 2018 High-level Political Forum (HLPF), this year's report is aligned with the theme, "Transformation towards sustainable and resilient societies" and Goals 6, 7, 11, 12 and 15 of the 2030 Agenda for Sustainable Development. In addition, the report examines trends in science, technology and innovation (STI) in Africa and its role in advancing implementation of the Sustainable Development Goals (SDGs) on the continent. The key findings, policy recommendations and emerging issues from the report are included. The report uses the latest data obtained from a broad range of sources, including the Economic Commission for Africa (ECA), the United Nations Conference on Trade and Development (UNCTAD), United Nations Statistics Division (UNSD) and the World Bank's World Development Indicators (WDI). These are complemented by review of the latest literature on the 2030 Agenda and Agenda 2063 and other pertinent analytical works, especially for the goals where data availability is limited. As underscored in the Africa Sustainable Development Report 2017, data gaps remain a major challenge for adequate reporting of Africa's progress towards the realization of the two agendas. Statistical capacity and systems for reporting on the two agendas need to be strengthened.
Citation
"United Nations. Economic Commission for Africa; African Union Commission; United Nations Development Programme; African Development Bank (2018-11). Africa sustainable development report 2018: towards a transformed and resilient continent. Addis Ababa. © UN.ECA. https://hdl.handle.net/10855/41712"
Serial Title
978-92-1-047600-3 978-92-1-125134-0
Related items
Showing items related by title, author, creator and subject.