Toward the improvement of MDG reporting : a regional perspective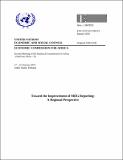 Published
2010-01
Author(s)/Corporate Author (s)
United Nations. Economic and Social Council;
United Nations. Economic Commission for Africa. African Centre for Statistics;

Abstract
This report builds upon two major activities, namely a workshop and two case studies in African countries. The first activity consisted of a Workshop on Coordination of Reporting Mechanisms and Data Discrepancies in MDG Monitoring held in Kampala, Uganda, from 5 to 8 May 2008 and organized by UNSD, ACS and the Southern African Development Community (SADC) secretariat. The workshop was meant to identify potential sources of discrepancies between national and international data sources in MDG monitoring and to explore ways to reconcile them. In addition to SADC member States (14 countries), it was also attended by representatives from other African countries, including Cameroon, Ghana and Uganda and international organizations, including the World Bank, The United Nations Children's Fund (UNICEF), the World Health Organization (WHO), and the UNESCO Institute for Statistics (UIS). The second activity consisted of an in-depth review of data availability for each MDG indicator at the national level compared with the information available in the global MDG database, identification of potential sources of discrepancy between the two sources, and proposal of potential remedial measures for reconciliation of national and international data on MDGs. This was done in two countries: Ethiopia and Uganda.
Citation
"United Nations. Economic and Social Council; United Nations. Economic Commission for Africa. African Centre for Statistics (2010-01). Toward the improvement of MDG reporting : a regional perspective. UN. ECA Statistical Commission for Africa Meeting (2nd : 2010, Jan. 17-22 : Addis Ababa, Ethiopia). Addis Ababa :. © UN. ECA,. https://hdl.handle.net/10855/4117"
Conference
UN. ECA Statistical Commission for Africa Meeting (2nd : 2010, Jan. 17-22 : Addis Ababa, Ethiopia)
Related items
Showing items related by title, author, creator and subject.