Gender dimensions of cross border trade in the East African community : Kenya/Uganda and Rwanda/Burundi border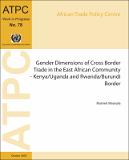 Date
2009-10
Author(s)/Corporate Author (s)
Masinjila, Masheti.;
United Nations. Economic Commission for Africa. African Trade Policy Centre;

Résumé
The main finding of the study is that informal cross border women traders across the region do not use available formal systems/structures for most of their transactions. This makes it difficult for regional trade policy initiatives such as under East African Community (EAC) and the Customs Protocol to have any significant impact on this informal trade by women. The women show little evidence of knowledge regarding the East African Community Customs Protocol and even less motivation to use it to facilitate trading activities. Women traders continue to trade, largely the same way they have done for many decades gone by as admitted by majority of respondents who have been in the trade for over ten years.
Citation
"Masinjila, Masheti.; United Nations. Economic Commission for Africa. African Trade Policy Centre (2009-10). Gender dimensions of cross border trade in the East African community : Kenya/Uganda and Rwanda/Burundi border. ATPC work in progress;; no.78. no.78, iii, 66 p. :. Addis Ababa :. © UN. ECA,. http://hdl.handle.net/10855/4105"
Serial Title
ATPC work in progress; no.78
Related items
Showing items related by title, author, creator and subject.