Women and the industrial development decade in Africa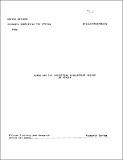 Published
1996
Author(s)/Corporate Author (s)
United Nations. Economic Commission for Africa;
African Training and Research Centre for Women;

Abstract
The purpose of the United Nations Industrial Development Decade for Africa is to promote the development of industrialized African economies capable of generating internally self-sustained economic development by each country adopting a strategy focusing on the promotion of a set of priority industries appropriate to its national resources.
Citation
"United Nations. Economic Commission for Africa; African Training and Research Centre for Women (1996). Women and the industrial development decade in Africa. Addis Ababa:. © UN. ECA,. https://hdl.handle.net/10855/3987"
Serial Title
Research series
Related items
Showing items related by title, author, creator and subject.
Summary of the synthesis report

United Nations. Economic and Social Council; United Nations. Economic Commission for Africa. African Centre for Gender and Development

"United Nations. Economic and Social Council; United Nations. Economic Commission for Africa. African Centre for Gender and Development (2004-08). Summary of the synthesis report. UN. ECA African Regional Conference on Women : Decade Review of the Implementation of the Dakar and Beijing Platform for Action (Beijing+10) (7th : 2004, Oct. 6-14 : Addis Ababa, Ethiopia); UN. ECA African Regional Conference on Women : Decade Review of the Implementation of the Dakar and Beijing Platform for Action (Beijing+10) (7th : 2004, Oct. 6-14 : Addis Ababa, Ethiopia). Addis Ababa :. © UN. ECA,. https://hdl.handle.net/10855/14409"