ECA, Smart Africa & Future State launch Africa Data Leadership Initiative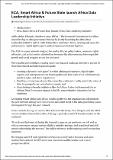 Published
2020-10
Author(s)/Corporate Author (s)
United Nations. Economic Commission for Africa.;

Abstract
The Economic Commission for Africa raised the flag on data governance Tuesday by jointly launching the Africa Data Leadership Initiative (ADLI) with Future State and Smart Africa, creating safe space for policymakers, digital rights experts and entrepreneurs to learn together. The ADLI is a peer network designed for and by African policymakers, consumer rights advocates, and private sector stakeholders to ensure the data economy drives equitable growth and social progress across the continent.
Citation
"United Nations. Economic Commission for Africa. (2020-10). ECA, Smart Africa & Future State launch Africa Data Leadership Initiative. Addis Ababa:. © UN. ECA,. https://hdl.handle.net/10855/39545"
Serial Title
Press Release
Related items
Showing items related by title, author, creator and subject.
Impact of the economic community of West African States common external tariff and European Union Economic Partnership Agreements

United Nations. Economic Commission for Africa; United Nations. Economic Commission for Africa. Subregional Office West Africa (SRO-WA); United Nations. Economic Commission for Africa. Subregional Office West Africa (SRO-WA); United Nations. Economic Commission for Africa; United Nations. Economic Commission for Africa. Subregional Office West Africa (SRO-WA); United Nations. Economic Commission for Africa. Subregional Office West Africa (SRO-WA)

"United Nations. Economic Commission for Africa; United Nations. Economic Commission for Africa. Subregional Office West Africa (SRO-WA); United Nations. Economic Commission for Africa. Subregional Office West Africa (SRO-WA); United Nations. Economic Commission for Africa; United Nations. Economic Commission for Africa. Subregional Office West Africa (SRO-WA); United Nations. Economic Commission for Africa. Subregional Office West Africa (SRO-WA) (2017). Impact of the economic community of West African States common external tariff and European Union Economic Partnership Agreements. Addis Ababa. © UN.ECA. https://hdl.handle.net/10855/43873"

ECOWAS at 45: an assessment of progress towards regional integration in West Africa

United Nations. Economic Commission for Africa; United Nations. Economic Commission for Africa. Subregional Office West Africa (SRO-WA); United Nations. Economic Commission for Africa; United Nations. Economic Commission for Africa. Subregional Office West Africa (SRO-WA)

"United Nations. Economic Commission for Africa; United Nations. Economic Commission for Africa. Subregional Office West Africa (SRO-WA); United Nations. Economic Commission for Africa; United Nations. Economic Commission for Africa. Subregional Office West Africa (SRO-WA) (2016-06-28). ECOWAS at 45: an assessment of progress towards regional integration in West Africa. Addis Ababa. © UN.ECA. https://hdl.handle.net/10855/43624"

COVID-19 Crisis in North Africa: the Impact and Mitigation Responses

United Nations. Economic Commission for Africa; United Nations. Economic Commission for Africa. Subregional Office North Africa (SRO-NA); United Nations. Economic Commission for Africa; United Nations. Economic Commission for Africa. Subregional Office North Africa (SRO-NA)

"United Nations. Economic Commission for Africa; United Nations. Economic Commission for Africa. Subregional Office North Africa (SRO-NA); United Nations. Economic Commission for Africa; United Nations. Economic Commission for Africa. Subregional Office North Africa (SRO-NA) (2020). COVID-19 Crisis in North Africa: the Impact and Mitigation Responses. Addis Ababa. © UN. ECA. https://hdl.handle.net/10855/43762"