Compendium of ECA resolutions the conference of ministers since its establishment 1958-1996:solutions to Africa's problems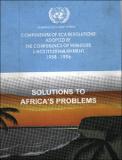 Date
1965-02
Author(s)/Corporate Author (s)
United Nations. Economic Commission for Africa.;

Résumé
This Resolutions adopted by the commission at its seventh session of Ministers of conference. Some of the Resolutions included in this session are: 123 (VII) Improvement of technical cooperation in the field of training in Africa; 124 (VII). Pub1ic administration; 125 (VII). Twining; 126 (VII) Campaign against illiteracy; 127 (VII). Organization of research and training in Africa; 128 (VII). Working parties; 130 (VII). Sessions of the Commission; 131 (VII). Establishment of an African payments union and a Pan-African clearing system; 132 (VII) Cooperation between the Economic Commission for Africa and the Organization of African Unity.
Citation
"United Nations. Economic Commission for Africa. (1965-02). Compendium of ECA resolutions the conference of ministers since its establishment 1958-1996:solutions to Africa's problems. UN. ECA (7th session : 1965, Feb. 9 - 23 : Nairobi, Kenya). Addis Ababa:. © UN. ECA,. https://hdl.handle.net/10855/38522"
Conférence
UN. ECA (7th session : 1965, Feb. 9 - 23 : Nairobi, Kenya)
Collections
Related items
Showing items related by title, author, creator and subject.
Impact of the economic community of West African States common external tariff and European Union Economic Partnership Agreements

United Nations. Economic Commission for Africa; United Nations. Economic Commission for Africa. Subregional Office West Africa (SRO-WA); United Nations. Economic Commission for Africa. Subregional Office West Africa (SRO-WA); United Nations. Economic Commission for Africa; United Nations. Economic Commission for Africa. Subregional Office West Africa (SRO-WA); United Nations. Economic Commission for Africa. Subregional Office West Africa (SRO-WA)

"United Nations. Economic Commission for Africa; United Nations. Economic Commission for Africa. Subregional Office West Africa (SRO-WA); United Nations. Economic Commission for Africa. Subregional Office West Africa (SRO-WA); United Nations. Economic Commission for Africa; United Nations. Economic Commission for Africa. Subregional Office West Africa (SRO-WA); United Nations. Economic Commission for Africa. Subregional Office West Africa (SRO-WA) (2017). Impact of the economic community of West African States common external tariff and European Union Economic Partnership Agreements. Addis Ababa. © UN.ECA. https://hdl.handle.net/10855/43873"

Information society : regional dimensions Africa, Europe & North America, Latin America & Caribbean, Asia & Pacific, Western Asia.

United Nations. Economic Commission for Africa.; United Nations. Economic Commission for Latin America and the Caribbean; United Nations. Economic Commission for Latin America and the Caribbean; United Nations. Economic and Social Commission for Asia and the Pacific; United Nations. Economic and Social Commission for Western Asia

"United Nations. Economic Commission for Africa.; United Nations. Economic Commission for Latin America and the Caribbean; United Nations. Economic Commission for Latin America and the Caribbean; United Nations. Economic and Social Commission for Asia and the Pacific; United Nations. Economic and Social Commission for Western Asia (2003). Information society : regional dimensions Africa, Europe & North America, Latin America & Caribbean, Asia & Pacific, Western Asia.. World Summit on the Information Society (1st : 2003 : Geneva, Switzerland). Geneva :. © UN.ECA. https://hdl.handle.net/10855/41101"

test

United Nations. Economic Commission for Africa; Nations Unies. Commission Economique pour l'Afrique. Centre africain pour le genre et le développement; Nations Unies. Commission Economique pour l'Afrique. Bureau Sous-Régional pour l'Afrique Centrale; United Nations. Economic Commission for Africa

"Smith, Test; United Nations. Economic Commission for Africa; Nations Unies. Commission Economique pour l'Afrique. Centre africain pour le genre et le développement; Nations Unies. Commission Economique pour l'Afrique. Bureau Sous-Régional pour l'Afrique Centrale; United Nations. Economic Commission for Africa test. "