Trade liberalization under the Doha Development Agenda : options and consequences for Africa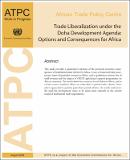 Published
2004-08
Author(s)/Corporate Author (s)
Achterbosch, Thom;
United Nations. Economic Commission for Africa;
United Nations. Economic Commission for Africa. African Trade Policy Centre;

Abstract
This study provides a quantitative estimate of the potential economic consequences of multilateral trade reform for Africa. It uses a framework that incorporates issues of particular concern to Africa, such as preference erosion, loss of tariff revenue and the impact of OECD agricultural support programmes on African countries. The results show that countries in sub-Saharan Africa, and to a lesser extent, Southern Africa are vulnerable to partial trade reforms. Since other regions derive positive gains from partial reforms, the results underscore the need for development issues to be taken more seriously in the current round of multilateral trade negotiations.
Citation
"Achterbosch, Thom; United Nations. Economic Commission for Africa; United Nations. Economic Commission for Africa. African Trade Policy Centre (2004-08). Trade liberalization under the Doha Development Agenda : options and consequences for Africa. ATPC work in progress;; no. 2. no. 2, viii, 93 p.:. Addis Ababa :. © UNECA,. https://hdl.handle.net/10855/384"
Serial Title
ATPC work in progress; no. 2
Related items
Showing items related by title, author, creator and subject.