Societal framework for economic development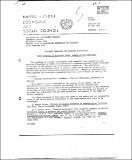 Published
1978-07
Author(s)/Corporate Author (s)
Baqai, Moinuddin;
United Nations. Economic and Social Council;
United Nations. Economic Commission for Africa;

Abstract
The problems of economic development have generally been analyzed in the existing literature in terms of an extension of accepted economic theory developed in the West to the special case of developing countries. The underlying assumptions of the approach based on capital formation as the key variable are derived from the well-established classical doctrine. This paper-is being circulated at the request of the author He has contributed it in order to explore the validity of certain thoughts and observations through discussions with his professional colleagues in the framework of work of the committee. He wishes to stress that the ideas put forward in the paper are preliminary and may need substantial refinements in the light of further research. The views expressed in this paper are those of the author and not necessarily those of the United Nations Secretariat or the organization with which he is associated.
Citation
"Baqai, Moinuddin; United Nations. Economic and Social Council; United Nations. Economic Commission for Africa (1978-07). Societal framework for economic development. UN. ECA (5th session : 1979, Mer. 26 - Apr. 6).. Addis Ababa :. © UN. ECA,. https://hdl.handle.net/10855/3730"
Conference
UN. ECA (5th session : 1979, Mer. 26 - Apr. 6).
Related items
Showing items related by title, author, creator and subject.
Report on economic and social conditions in Southern Africa, 2000

United Nations. Economic Commission for Africa; United Nations. Economic Commission for Africa. Southern Africa SubRegional Development Centre (ECA/SA-SRDC)

"United Nations. Economic Commission for Africa; United Nations. Economic Commission for Africa. Southern Africa SubRegional Development Centre (ECA/SA-SRDC) (2001-03). Report on economic and social conditions in Southern Africa, 2000. UN. ECA Intergovernmental Committee of Experts for Southern Africa (ICE) Meeting(7th :2001, Apr. 03 - 06 :Lusaka, Zambia). Lusaka:. © UN. ECA,. https://hdl.handle.net/10855/4736"

Draft introduction to the medium term plan beginning 1992

United Nations. Economic and Social Council; United Nations. Economic Commission for Africa

"United Nations. Economic and Social Council; United Nations. Economic Commission for Africa (1989-08). Draft introduction to the medium term plan beginning 1992. UN. ECA Ad Hoc Committee on the Draft Medium-Term Plan, 1992-1997 Meeting. (1989: Oct. 9 - 11 : Addis Ababa, Ethiopia). Addis Ababa. © UN. ECA. https://hdl.handle.net/10855/20747"