Current account in Sub-Saharan Africa : should policymakers worry about sustainability?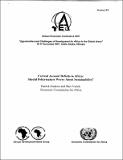 Published
2007-11
Author(s)/Corporate Author (s)
Osakwe, Patrick N.;
Verick, Sher;
African Development Bank Group;
United Nations. Economic Commission for Africa African Center for Statistics;

Abstract
This paper analyses the determinants of both short and medium-term current account deficits in Africa, and finds that countries are more likely to have a deficit exceeding 5% if the economy is small, less open and diverse, and is experiencing macroeconomic instability. Less democratic governments also have a higher probability of running a deficit. Overall, the main message is that though most African economies are characterized by current account deficits, only a few have real concerns regarding the sustainability of this imbalance As long as these countries can finance their deficits via aid and debt accumulation, they face no immediate crisis. However, this allows these economies to continue with the status quo rather than addressing the structural causes of the deficit such as export supply constraints due to poor infrastructure.
Citation
"Osakwe, Patrick N.; Verick, Sher; African Development Bank Group; United Nations. Economic Commission for Africa African Center for Statistics (2007-11). Current account in Sub-Saharan Africa : should policymakers worry about sustainability?. African Economic Conference 2007: Opportunities and Challenges of Development for Africa in the Global Arena (2007, nov. 15-17 : Addis Ababa, Ethiopia). Addis Ababa :. © UN. ECA,. https://hdl.handle.net/10855/3720"
Conference
African Economic Conference 2007: Opportunities and Challenges of Development for Africa in the Global Arena (2007, nov. 15-17 : Addis Ababa, Ethiopia)