54th Session of the Committee for Programme and Coordination (CPC) on the proposed Biennial Programme Plan, 2016-2017: Programme 15, Economic and social development in Africa: Introductory Statement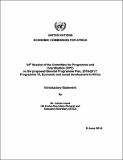 Published
2014-06
Author(s)/Corporate Author (s)
Lopes, Carlos;
United Nations. Economic Commission for Africa.;

Abstract
The proposed biennial programme plan for 2016-2017 that is before you has been prepared in the context of the reforms implemented at ECA over the last 2 years, following the endorsement by the General Assembly of a new strategic direction and programme orientation for the Commission as contained in resolution A/RES/68/248 of December 2013. The plan, therefore, reflects continuity in the programme directions approved for the current biennium 2014-2015.
Citation
"Lopes, Carlos; United Nations. Economic Commission for Africa. (2014-06). 54th Session of the Committee for Programme and Coordination (CPC) on the proposed Biennial Programme Plan, 2016-2017: Programme 15, Economic and social development in Africa: Introductory Statement. Addis Ababa:. © UN. ECA,. https://hdl.handle.net/10855/36536"
Serial Title
b11558052
Related items
Showing items related by title, author, creator and subject.