Monograph on African public enterprises : selected papers on technical and managerial problems on African public enterprises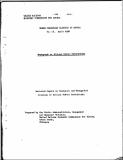 Published
1980-04
Author(s)/Corporate Author (s)
United Nations. Economic Commission for Africa;
United Nations. Economic and Social Council;

Abstract
A major goal of African Governments since $he attainment of independence has been the social and economic development of their respective countries and the raising of living standards for the masses of the people, experience so far has left no one in doubt about the magnitude and formidable nature of this task, for in spite of its vast but largely, untapped natural resources, the African continent suffers from un integrated, economies of small national markets, while it is seriously lacking in trained manpower essential pre requisites for the transformation of the existing social and economic patterns.
Citation
"United Nations. Economic Commission for Africa; United Nations. Economic and Social Council (1980-04). Monograph on African public enterprises : selected papers on technical and managerial problems on African public enterprises. Addis Ababa :. © UN. ECA,. http://hdl.handle.net/10855/3598"
Serial Title
Human resources planning in Africa, No.11
Related items
Showing items related by title, author, creator and subject.
La privatisation des entreprises publiques: les leçons des expériences africaines

Nations Unies. Commission Economique pour l'Afrique. Division de l'administration publique, des resources humaines et du développement social

"Mostafa, Rhomari; Nations Unies. Commission Economique pour l'Afrique. Division de l'administration publique, des resources humaines et du développement social (1993). La privatisation des entreprises publiques: les leçons des expériences africaines. NU. CEA Conférence Régionale sur la Gestion du Développement en Afrique: Trente années d'expérience, les nouveaux défis et les priorités futures (1993, mars 8 - 12 : Addis Abeba, Ethiopie).. Addis Abeba :. © NU. CEA,. http://hdl.handle.net/10855/3859"

Promotion de l'éthique et la responsabilité dans les services publics africains

Nations Unies. Commission Economique pour l'Afrique. Division de l'administration publique, des resources humaines et du développement social

"Rasheed, Sadig; Nations Unies. Commission Economique pour l'Afrique. Division de l'administration publique, des resources humaines et du développement social (1993-03). Promotion de l'éthique et la responsabilité dans les services publics africains. NU. CEA Conférence régionale sur la gestion du développement en Afrique (1993, 8 - 12 mar. : Addis Abeba, Ethiopie).. Addis Abeba:. © NU. CEA,. http://hdl.handle.net/10855/3821"