Committee on the programme of work and priorities : provisional summary record of the second meeting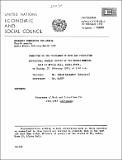 Published
1962-02
Author(s)/Corporate Author (s)
United Nations. Economic and Social Council;
United Nations. Economic Commission for Africa;

Abstract
The Executive Secretary said that work had started on the project, which had been conceived in Pursuance of resolution 27 (III) of the Commission. A group of experts had met on two occasions and had finished its work on 15 December with the adoption of recommendations. On 19 December 1961 the General Assembly had adopted a resolution emphasizing the necessity of setting up Regional Banks in Africa. It was to be noted that the Commission Resolution referred to a single bank, whereas the General Assembly in its Resolution envisaged several regional banks for Africa. They had therefore to choose between1 the' two texts. Project 02-10 belonged to the category of special priority projects and had been completed; the Commission must therefore come to a decision so as to enable the Secretariat to resume its study of the question.
Citation
"United Nations. Economic and Social Council; United Nations. Economic Commission for Africa (1962-02). Committee on the programme of work and priorities : provisional summary record of the second meeting. UN. ECA (4th session : 1962, Feb. - Mar. : Addis Ababa, Ethiopia). Addis Ababa :. © UN. ECA,. https://hdl.handle.net/10855/3502"
Conference
UN. ECA (4th session : 1962, Feb. - Mar. : Addis Ababa, Ethiopia)
Related items
Showing items related by title, author, creator and subject.
Note conceptuelle: Comité intergouvernemental de hauts fonctionnaires et d'experts pour l'Afrique du Nord

Nations Unies. Commission Economique pour l'Afrique; Nations Unies. Commission économique pour l'Afrique. Bureau Sous-Régional pour l'Afrique de l'Ouest; Nations Unies. Commission économique pour l'Afrique. Bureau Sous-Régional pour l'Afrique du Nord

"Nations Unies. Commission Economique pour l'Afrique; Nations Unies. Commission économique pour l'Afrique. Bureau Sous-Régional pour l'Afrique de l'Ouest; Nations Unies. Commission économique pour l'Afrique. Bureau Sous-Régional pour l'Afrique du Nord (2022-08). Note conceptuelle: Comité intergouvernemental de hauts fonctionnaires et d'experts pour l'Afrique du Nord. NU. CEA Réunion du Comité intergouvernemental de hauts fonctionnaires et d'experts pour l'Afrique du Nord (1ère: 2022, 1-3 nov.: Marrakech, Maroc). Addis Abeba:. © NU. CEA,. https://hdl.handle.net/10855/49120"

Information society : regional dimensions Africa, Europe & North America, Latin America & Caribbean, Asia & Pacific, Western Asia.

United Nations. Economic Commission for Africa.; United Nations. Economic Commission for Latin America and the Caribbean; United Nations. Economic Commission for Latin America and the Caribbean; United Nations. Economic and Social Commission for Asia and the Pacific; United Nations. Economic and Social Commission for Western Asia

"United Nations. Economic Commission for Africa.; United Nations. Economic Commission for Latin America and the Caribbean; United Nations. Economic Commission for Latin America and the Caribbean; United Nations. Economic and Social Commission for Asia and the Pacific; United Nations. Economic and Social Commission for Western Asia (2003). Information society : regional dimensions Africa, Europe & North America, Latin America & Caribbean, Asia & Pacific, Western Asia.. World Summit on the Information Society (1st : 2003 : Geneva, Switzerland). Geneva :. © UN.ECA. https://hdl.handle.net/10855/41101"

Note conceptuelle: Atelier de partage de connaissances et de partenariat dans le cadre des forums régionaux sur l'évolution probable du climat

Nations Unies. Commission Economique pour l'Afrique; Nations Unies. Commission Economique pour l'Afrique. Division des initiatives spéciales. Centre africain pour les politiques en matière de climat; Nations Unies. Commission Economique pour l'Afrique; Nations Unies. Commission Economique pour l'Afrique. Division des initiatives spéciales. Centre africain pour les politiques en matière de climat

"Nations Unies. Commission Economique pour l'Afrique; Nations Unies. Commission Economique pour l'Afrique. Division des initiatives spéciales. Centre africain pour les politiques en matière de climat; Nations Unies. Commission Economique pour l'Afrique; Nations Unies. Commission Economique pour l'Afrique. Division des initiatives spéciales. Centre africain pour les politiques en matière de climat (2018-05). Note conceptuelle: Atelier de partage de connaissances et de partenariat dans le cadre des forums régionaux sur l'évolution probable du climat. NU. CEA Atelier de partage de connaissances et de partenariat dans le cadre des forums régionaux sur l'évolution probable du climat (2018, 13-14 mai.: Djibouti, Djibouti). Addis Abeba. © NU. CEA. https://hdl.handle.net/10855/24521"