The resource-based exporting and industrialization : how to learn from the Nordic countries?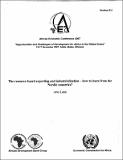 Published
2007-11
Author(s)/Corporate Author (s)
Lahti, Arto;
African Development Bank Group;
United Nations. Economic Commission for Africa African Center for Statistics;

Abstract
Globalization is a modern word for a process that has been going on for centuries. Advances in transportation and communication have increased economic integration. Technologies as container systems and the Internet have lower trade barriers and eased the movement of goods, services and capital. The rapid growth in financial flows over boarders, particularly private equity and portfolio investments, is, one of the symbols of globalization. Globalization has also meant expansion, diversification and deepening of trade and financial links between countries, especially over the WTO-time. This is a result of multilateral tariff reduction and trade liberalization. As the crises of the 90s in Mexico and Asia demonstrated, globalization is threatening, not only to the UN and the WTO but to national market institutions and political systems. Since the 1960, the growth of international trade in goods and services has been twice as fast as global output.
Citation
"Lahti, Arto; African Development Bank Group; United Nations. Economic Commission for Africa African Center for Statistics (2007-11). The resource-based exporting and industrialization : how to learn from the Nordic countries?. African Economic Conference 2007: Opportunities and Challenges of Development for Africa in the Global Arena (2007, nov. 15-17 : Addis Ababa, Ethiopia). Addis Ababa :. © UN. ECA,. https://hdl.handle.net/10855/3455"
Conference
African Economic Conference 2007: Opportunities and Challenges of Development for Africa in the Global Arena (2007, nov. 15-17 : Addis Ababa, Ethiopia)