Why Doesn't Regional Integration: Improve Income Convergence in Africa?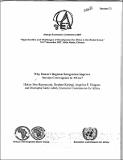 Published
2007-11
Author(s)/Corporate Author (s)
Hammouda, Hakim Ben;
Jallab, Mustapha Sadni;
Karingi, Stephen N.;
Njuguna, Angelica E.;
African Development Bank Group;
United Nations. Economic Commission for Africa African Center for Statistics;

Abstract
This paper investigates why regional integration does not improve income convergence in Africa, despite the common goal of more open and freer trade. Based on empirical analysis using African countries data, the paper presents the evidence that there has been little progress in income convergence in Africa. The paper shows that despite the importance of regional integration there has been limited progress and prospects of the African integration process are not as promising as would be expected for such an important pillar in Africa's development agenda.
Citation
"Hammouda, Hakim Ben; Jallab, Mustapha Sadni; Karingi, Stephen N.; Njuguna, Angelica E.; African Development Bank Group; United Nations. Economic Commission for Africa African Center for Statistics (2007-11). Why Doesn't Regional Integration: Improve Income Convergence in Africa?. African Economic Conference 2007: Opportunities and Challenges of Development for Africa in the Global Arena (2007, nov. 15-17 : Addis Ababa, Ethiopia). Addis Ababa :. © UN. ECA,. https://hdl.handle.net/10855/3248"
Conference
African Economic Conference 2007: Opportunities and Challenges of Development for Africa in the Global Arena (2007, nov. 15-17 : Addis Ababa, Ethiopia)