Experts meet to review a new study on preferential trade agreement compliance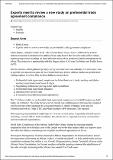 Published
2020-10
Author(s)/Corporate Author (s)
United Nations. Economic Commission for Africa.;

Abstract
The African Trade Policy Centre (ATPC) of the United Nations Economic Commission for Africa (ECA) today hosted the first of a series of five virtual experts group review meetings on innovative new research on preferential trade arrangements in Africa. The project is in partnership with the Organization of African, Caribbean and Pacific States (ACP). The five studies, which gathered primary survey and interview data virtually over mid-2020, look to provide new answers to some of the critical challenges to how African traders use preferential trading regimes in Africa.
Citation
"United Nations. Economic Commission for Africa. (2020-10). Experts meet to review a new study on preferential trade agreement compliance. Addis Ababa:. © UN. ECA,. https://hdl.handle.net/10855/32355"
Serial Title
Press Release
Related items
Showing items related by title, author, creator and subject.