Law and the status of women in Nigeria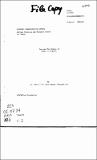 Published
1979
Author(s)/Corporate Author (s)
Akande, DeboJ. O;
United Nations. Economic Commission for Africa;
United Nations.African Training and Research Centre for Women. Economic Commission for Africa.;

Abstract
The role or rights of women in any society depend on the status accorded them by that society. In Nigeria, some informants hold the opinion that women spend their whole lives under male dominance, submitting first to the authority of their father or their mother's brother according to the prevailing kinship system and later to that of their husband. In the economy, major control, power and key roles rest with men. Women are typically in subordinate and subservient positions. Their increased participation in the economic life of the nation is confined largely to trading not requiring large outlay in capital. In employment, they are concentrated in semi-skilled and unskilled and low paid Jobs. However, It is expected that with increasing social contact and political development, there must be a movement not only to improve this body of customary law rules of conduct but also for the evolution of a modern legal system, which will clearly define the extent of a women's right and status in society. All law must be a reflection of the social consciousness of people who live under it, and changing social, economic and political conditions must inevitably affect the legal order.
Citation
"Akande, DeboJ. O; United Nations. Economic Commission for Africa; United Nations.African Training and Research Centre for Women. Economic Commission for Africa. (1979). Law and the status of women in Nigeria. Addis Ababa :. © UN. ECA,. https://hdl.handle.net/10855/304"
Serial Title
Research Series (African Training and Research Centre for Women)
Related items
Showing items related by title, author, creator and subject.
Summary of the synthesis report

United Nations. Economic and Social Council; United Nations. Economic Commission for Africa. African Centre for Gender and Development

"United Nations. Economic and Social Council; United Nations. Economic Commission for Africa. African Centre for Gender and Development (2004-08). Summary of the synthesis report. UN. ECA African Regional Conference on Women : Decade Review of the Implementation of the Dakar and Beijing Platform for Action (Beijing+10) (7th : 2004, Oct. 6-14 : Addis Ababa, Ethiopia); UN. ECA African Regional Conference on Women : Decade Review of the Implementation of the Dakar and Beijing Platform for Action (Beijing+10) (7th : 2004, Oct. 6-14 : Addis Ababa, Ethiopia). Addis Ababa :. © UN. ECA,. https://hdl.handle.net/10855/14409"