Foreign trade statics of Africa=Statistiques Africaines du commerce extérieur : no. 9 series B trade by commodity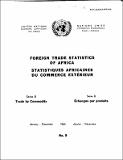 Published
1964-01
Author(s)/Corporate Author (s)
Nations Unies. Commission économique pour l'Afrique;
United Nations. Economic Commission for Africa.;

Abstract
This issue of series B provides a complete geographical breakdown for each country for which data are available. The items shown are based on data furnished by reporting individual countries and territories in the form of publications or tabulation listings. The designations employed and the presentation of the material do not imply the expression of any opinion whatsoever on the part of the ECA secretariat concerning the legal status of any country or territory of its authorities or concerning the delimitation of its frontiers. Series B. trade by commodity is a companion of series A. direction of trade and provides qualitative half yearly data on African commodity trade according to the Standard International Trade Classification revised by region and countries of provinces and destination in thousands dollars. Import and Exports are analyzed by sections, groups or subgroups.
Citation
"Nations Unies. Commission économique pour l'Afrique; United Nations. Economic Commission for Africa. (1964-01). Foreign trade statics of Africa=Statistiques Africaines du commerce extérieur : no. 9 series B trade by commodity. Addis Ababa:. © UN. ECA,. https://hdl.handle.net/10855/29282"
Serial Title
Trade by Commodity =Echanges par produit
Related items
Showing items related by title, author, creator and subject.