Market access for non-agricultural products the impact of the Doha round on African economies : a simulation exercise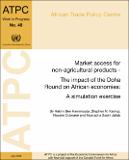 Published
2006
Author(s)/Corporate Author (s)
Ben Hammouda, Hakim;
United Nations. Economic Commission for Africa. African Trade Policy Centre;
United Nations. Economic Commission for Africa. Trade and Regional Integration Division;

Abstract
This paper proposes an extensive data simulation exercise on the likely impact of non-agricultural market access (NAMA) liberalization. We propose real options for various formula coefficients, Paragraph 8 flexibilities and the treatment of unbound tariffs. Furthermore, we propose an empirical study by putting together a combination of databases and a methodology allowing for systematic and exhaustive assessment of African countries suspected of applying tariff formula reductions on NAMA negotiations, for each of the six-digit level lines of the Harmonized System classification (HS-6 level), the AVE of the binding overhang, and the impact on applied duties of any cut in bound protection. This paper also proposes indications concerning the likely economic impact of this round of negotiations on African economies. We show that an ambitious formula would provide greater access to developed country markets for African producers. However, this kind of formula has a major drawback for African countries in the sense that it could accelerate the de-industrialization of African countries and limit incentives to diversify their economies.
Citation
"Ben Hammouda, Hakim; United Nations. Economic Commission for Africa. African Trade Policy Centre; United Nations. Economic Commission for Africa. Trade and Regional Integration Division (2006). Market access for non-agricultural products the impact of the Doha round on African economies : a simulation exercise. ATPC work in progress;. No. 40, 41 p.. Addis Ababa :. © UN. ECA,. https://hdl.handle.net/10855/25077"
Serial Title
ATPC work in progress;
Related items
Showing items related by title, author, creator and subject.