Malaria control among slum children in the Great Lakes Region of Africa: using the power of geospatial intelligence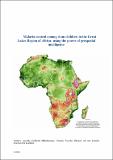 Published
2018
Author(s)/Corporate Author (s)
Mbiydzenyuy, Ayenika Godheart;
Sissoko, Fatouma;
Ali, Khogali;
WANDJI, Léandre NGOGANG;
United Nations. Economic Commission for Africa;

Abstract
The present study is an assessment of the geospatial childhood malaria distribution and patterns among children living in slums and is aimed at enhancing policy making and decision making for malaria eradication and control in five countries in the Great Lake Region: Burundi, the Democratic Republic of the Congo, Rwanda, Uganda and the United Republic of Tanzania. By using the spatial statistical analytical approach, policymakers will be able to better understand the behaviors of the childhood malaria phenomenon in slums, while relating the prevention, control and eradication of the disease to geographical locations. Through the interpolation of results, the relationship between slums and malaria intensities was mapped out, indicating high and low clustering of the disease in the five countries. In addition, the study also provided an examination of the effects of environmental factors such as inland waters, cropland, tree covered areas, shrub-covered areas and herbaceous vegetation on the occurrence of the disease. The results not only have demonstrated the spatial distribution of childhood malaria in slums but also have indicated the principal factors responsible for the spatial distribution of the phenomenon. Accordingly, indicated in the study area areas of intervention for the control, prevention and eradication of childhood malaria in slums and suggestions for a priority scheme to be followed for rapid policy action within the five countries.
Citation
"Mbiydzenyuy, Ayenika Godheart; Sissoko, Fatouma; Ali, Khogali; WANDJI, Léandre NGOGANG; United Nations. Economic Commission for Africa (2018). Malaria control among slum children in the Great Lakes Region of Africa: using the power of geospatial intelligence. Addis Ababa. © UN. ECA. "
Related items
Showing items related by title, author, creator and subject.