Scaling up value creation and local development in the upstream mining sector in Ghana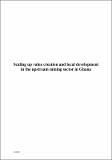 Published
2018
Author(s)/Corporate Author (s)
United Nations. Economic Commission for Africa. Special Initiatives Division. African Minerals Development Center;

Abstract
Historically, Ghana's economic landscape has been shaped by the mining sector, which has been dominated, primarily, by gold production. The beginning of commercial exploitation of oil in 2010 further accentuated the footprint of the extraction sector. The contribution of that sector to the country's economy continues to fall short of its potential, however. Ghana has other mineral reserves, including deposits of diamonds, iron ore, manganese and bauxite, but many of these also remain under exploited. However, as interest in the mining sector grows and as the country embarks on strategic reforms to better leverage that sector, with a view to developing an industrial economy, it is expected that efforts will be made to exploit these other mineral reserves. This report provides the background and context and sets the scene for the mining sector in Ghana and its links, or lack thereof, with the rest of the economy. It presents strategic and achievable opportunities to add value and propel both the country and the region using dynamic and diversified value chains. The analysis contained in the report will also serve in the implementation of the national suppliers' development program itself and as guidance on the institutional environment needed to make this possible. It is the goal of the partners engaged in this initiative that Ghana, West Africa and the continent be equipped to transform their economies on the basis of currently underutilized natural resources for the benefit of their citizens and future generations.
Citation
"United Nations. Economic Commission for Africa. Special Initiatives Division. African Minerals Development Center (2018). Scaling up value creation and local development in the upstream mining sector in Ghana. Addis Ababa. © UN. ECA. "
Related items
Showing items related by title, author, creator and subject.