Linkages between double taxation treaties and bilateral investment treaties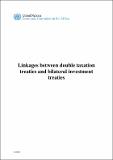 Published
2018
Author(s)/Corporate Author (s)
United Nations. Economic Commission for Africa;

Abstract
Foreign direct investment (FDI) holds promise for accelerating structural transformation and poverty reduction in Africa. Such investment is essential in increasing the stock of domestic productive assets, generating positive spill overs and forward and backward linkages within the economy and facilitating import of new technologies and know-how. Most African countries have resorted to bilateral investment treaties and double taxation treaties as a means of stimulating inward investment. They have tended to accept templates of these treaties and have been sponsored by their counterparts rather than advance their own formulas informed by their specific development ambitions. The present study highlights the various linkages that exist between double taxation treaties and bilateral investment treaties and some of the associated challenges that they pose to African countries signing these agreements. There is a growing recognition of the need to ensure better alignment of the agreements with the developmental concerns and ambitions of States. There are a number of steps that African leaders can consider taking at the national, bilateral and multinational levels to deal with these challenges. Given that many of the investment treaties concluded in the 1990s early 2000s have recently expired or are about to expire, now is an opportune moment for review and reform. African countries wishing to avail themselves of bilateral investment treaties or double taxation treaties are encouraged to draw inspiration from and contribute to the ongoing global dialogues on investment and tax matters.
Citation
"United Nations. Economic Commission for Africa (2018). Linkages between double taxation treaties and bilateral investment treaties. Addis Ababa. © UN. ECA. "
Related items
Showing items related by title, author, creator and subject.