The African peer review mechanism as a tool for enhancing domestic resource mobilization and public finance management in Africa: issue paper 2017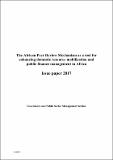 Published
2018-06
Author(s)/Corporate Author (s)
United Nations. Economic Commission for Africa. Macroeconomic Policy Division. Governance and Public Sector Management Section;

Abstract
The purpose of the present report is to review the role of the African Peer Review Mechanism in developing strategic, operational and normative pathways for enhanced domestic resource mobilization and private finance management. That role and the mechanism's efficacy in carrying it out have become even more urgent in the light of the demands for African countries and citizens to be integrally involved as the primary agents in the efforts aimed at achieving the sustainable development goals and implementing agenda 2063: The Africa We Want with 36 countries acceding to its voluntary processes and the structures of the peer review, the mechanism is well placed to leverage institutional competences, skills and experiences to enhance domestic resource mobilization and public finance management.
Citation
"United Nations. Economic Commission for Africa. Macroeconomic Policy Division. Governance and Public Sector Management Section (2018-06). The African peer review mechanism as a tool for enhancing domestic resource mobilization and public finance management in Africa: issue paper 2017. Issu Paper. 17, vii, 38 p.: ill. Addis Ababa. © UN. ECA. https://hdl.handle.net/10855/24479"
Serial Title
Issu Paper
Related items
Showing items related by title, author, creator and subject.