Transboundary natural resource disputes in Africa: policies, institutions and management experiences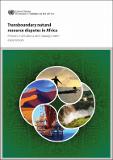 Published
2018-06
Author(s)/Corporate Author (s)
United Nations. Economic Commission for Africa;

Abstract
Africa is endowed with considerable strategic renewable and non-renewable natural resources, of which only a fraction has been exploited for the benefit of the African people. The role of natural resources as major contributors to economic growth and poverty reduction cannot be overstated. However, natural resources can be a curse or a blessing, depending on the quality of governance, institutions and governments' capacity and willingness to manage them for development and the public good. This report elucidates the current policy and academic debates on the role of trans-boundary resources in African economic growth, and introduces the current practices of trans-boundary resources management. The focus of the report is on mapping Africa's protocols and strategies on trans-boundary resources management, with special reference to minerals, oil and gas, on the basis of eight case studies. The scope of the report is limited to trans-boundary natural resources management, focused on the management of disputes over trans-boundary natural resources, with specific reference to gas, oil, minerals and fresh water. The case studies will deal with four types of natural resource sectors: first, border disputes emanating from the failure of decolonization; second, fresh water resources; third, offshore and inland minerals, oil and gas; and, fourth, trans-boundary pastoralist migratory patterns and trade centers in the Horn of Africa and the Sahel.
Citation
"United Nations. Economic Commission for Africa (2018-06). Transboundary natural resource disputes in Africa: policies, institutions and management experiences. Addis Ababa. © UN. ECA. "
Related items
Showing items related by title, author, creator and subject.