Public service delivery campaign: high-level launch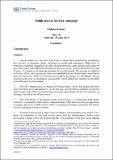 Published
2018-06
Author(s)/Corporate Author (s)
United Nations. Economic Commission for Africa;

Abstract
African leaders are conscious of the negative impact that corruption has continued to have on their development efforts, including on growth and investments. High levels of corruption exacerbate inequalities and affect disproportionately certain groups, particularly the poor, and women and children. In sub-Saharan Africa, for every 100 men aged between 25 and 35 years, 127 women in the same age group live in extreme poverty. The message is reinforced in country policy and institutional assessment published by the World Bank, which shows that, over the period 2005–2016, the progress made in governance by sub-Saharan African countries in the areas of transparency, accountability and in addressing corruption in the public sector falls short of expectations. The overall objective of the campaign is to drive a positive discussion on the at the individual and government institutional levels through social media platforms that celebrate public institutions that deliver services that is free of corruption. The campaign will enable citizens to connect to the business of government, create a flow of information about the positives and take the pressure of reporting off the citizen. The ultimate goal of the campaign is to support the efforts of government anti-corruption reforms to promote the ethos of transparency, trust and accountability in the delivery of goods and services by African public services.
Citation
"United Nations. Economic Commission for Africa (2018-06). Public service delivery campaign: high-level launch. Addis Ababa. © UN. ECA. "
Related items
Showing items related by title, author, creator and subject.
Administration for development

United Nations. Economic Commission for Africa. Public Administration Section; United Nations. Economic Commission for Africa; United Nations

"United Nations. Economic Commission for Africa. Public Administration Section; United Nations. Economic Commission for Africa; United Nations (1971). Administration for development. [Addis Ababa] :. © UN. ECA,. http://hdl.handle.net/10855/14951"

La privatisation des entreprises publiques: les leçons des expériences africaines

Nations Unies. Commission Economique pour l'Afrique. Division de l'administration publique, des resources humaines et du développement social

"Mostafa, Rhomari; Nations Unies. Commission Economique pour l'Afrique. Division de l'administration publique, des resources humaines et du développement social (1993). La privatisation des entreprises publiques: les leçons des expériences africaines. NU. CEA Conférence Régionale sur la Gestion du Développement en Afrique: Trente années d'expérience, les nouveaux défis et les priorités futures (1993, mars 8 - 12 : Addis Abeba, Ethiopie).. Addis Abeba :. © NU. CEA,. http://hdl.handle.net/10855/3859"