Trade can induce climate-resilient reforms for food security in Africa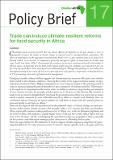 Published
2018
Author(s)/Corporate Author (s)
United Nations. Economic Commission for Africa;

Abstract
The brief draws on a diagnostic study conducted in the Economic Community of West African States (ECOWAS) and the East African Community to understand the role of trade in responding to the impact of climate change on agricultural production in Africa. The study was designed to investigate the emerging evidence of the effect that climate change has on agricultural systems, trade and food security and how this can inform policies and institutional and regulatory frameworks for effective adaptation in the regional economic communities. The main objective of the present brief is to draw attention to the opportunities that exist for harnessing agricultural production and regional trade to safeguard food security in Africa under the impact of climate change.
Citation
"United Nations. Economic Commission for Africa (2018). Trade can induce climate-resilient reforms for food security in Africa. ClimDev-Africa Policy brief;. No.17, 4 p.. Addis Ababa. © UN. ECA. https://hdl.handle.net/10855/24469"
Serial Title
ClimDev-Africa Policy brief;
Related items
Showing items related by title, author, creator and subject.
Note conceptuelle: Atelier de partage de connaissances et de partenariat dans le cadre des forums régionaux sur l'évolution probable du climat

Nations Unies. Commission Economique pour l'Afrique; Nations Unies. Commission Economique pour l'Afrique. Division des initiatives spéciales. Centre africain pour les politiques en matière de climat; Nations Unies. Commission Economique pour l'Afrique; Nations Unies. Commission Economique pour l'Afrique. Division des initiatives spéciales. Centre africain pour les politiques en matière de climat

"Nations Unies. Commission Economique pour l'Afrique; Nations Unies. Commission Economique pour l'Afrique. Division des initiatives spéciales. Centre africain pour les politiques en matière de climat; Nations Unies. Commission Economique pour l'Afrique; Nations Unies. Commission Economique pour l'Afrique. Division des initiatives spéciales. Centre africain pour les politiques en matière de climat (2018-05). Note conceptuelle: Atelier de partage de connaissances et de partenariat dans le cadre des forums régionaux sur l'évolution probable du climat. NU. CEA Atelier de partage de connaissances et de partenariat dans le cadre des forums régionaux sur l'évolution probable du climat (2018, 13-14 mai.: Djibouti, Djibouti). Addis Abeba. © NU. CEA. https://hdl.handle.net/10855/24521"