African statistical year book=annuaire statistique pour l'Afrique 2018
annuaire statistique pour l'Afrique 2018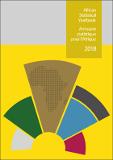 Published
2018
Author(s)/Corporate Author (s)
United Nations. Economic Commission for Africa;
Nations Unies. Commission Economique pour l'Afrique;

Abstract
The African Statistical Yearbook (ASYB) 2018 is the tenth edition jointly produced by the African Development Bank (AfDB), the African Union Commission (AUC) and the United Nations Economic Commission for Africa (ECA). The Yearbook series is a result of joint efforts by major African regional organizations to set up a joint data collection mechanism of socioeconomic data on African countries as well as the development of a common harmonized database. The data in this issue of the Yearbook are arranged generally for the years 2009 to 2017 or for the last ten years for which data are available. The Yearbook is published in one volume consisting of two parts: a set of summary tables followed by country tables.
Citation
"United Nations. Economic Commission for Africa; Nations Unies. Commission Economique pour l'Afrique (2018). African statistical year book=annuaire statistique pour l'Afrique 2018; annuaire statistique pour l'Afrique 2018. Addis Ababa. © UN.ECA. "
Related items
Showing items related by title, author, creator and subject.
Projet africain sur la mise en oeuvre du Système de Comptabilité Nationale de 2008 (SCN 2008)

Nations Unies. Commission Economique pour l'Afrique; Commission de l'Union Africaine; Nations Unies. Conseil Economique et Social; Nations Unies. Commission Economique pour l'Afrique; Commission de l'Union Africaine; Nations Unies. Conseil Economique et Social

"Nations Unies. Commission Economique pour l'Afrique; Commission de l'Union Africaine; Nations Unies. Conseil Economique et Social; Nations Unies. Commission Economique pour l'Afrique; Commission de l'Union Africaine; Nations Unies. Conseil Economique et Social (2016-11). Projet africain sur la mise en oeuvre du Système de Comptabilité Nationale de 2008 (SCN 2008). NU. CEA Commission africaine de statistique(5ème session:2016, 28 nov. - 2 déc.:Abidjan, Côte d'Ivoire); NU. CEA Comité des directeurs généraux des offices nationaux de statistique(10ème session:2016, 28 nov. - 2 déc. :Abidjan, Côte d'Ivoire). Addis Abeba:. © NU. CEA,. "

Rapport de la deuxième session conjointe du Comité des directeurs généraux des offices nationaux de statistique et du Comité de statistique

Nations Unies. Commission Economique pour l'Afrique; Commission de l'Union Africaine; Nations Unies. Conseil Economique et Social; Nations Unies. Commission Economique pour l'Afrique; Commission de l'Union Africaine; Nations Unies. Conseil Economique et Social

"Nations Unies. Commission Economique pour l'Afrique; Commission de l'Union Africaine; Nations Unies. Conseil Economique et Social; Nations Unies. Commission Economique pour l'Afrique; Commission de l'Union Africaine; Nations Unies. Conseil Economique et Social (2017-02). Rapport de la deuxième session conjointe du Comité des directeurs généraux des offices nationaux de statistique et du Comité de statistique. UA Comité d'experts réunion (3ème: 2017, 23 - 25 mar.: Dakar, Sénégal); NU. CEA Comité d'experts réunion(36ème: 2017, 23 - 25 mar.: Dakar, Sénégal); NU. CEA Réunion annuelle conjointe du Comité technique spécialisé de l'Union africaine sur les finances, les affaires monétaires, la planification économique et l'intégration et de la Conférence des ministres africains des finances, de la planification et du développement économique de la Commission économique pour l'Afrique (10ème: 2017, 23 - 25 mar.: Dakar, Sénégal). Addis Abeba. © NU. CEA. "

Groupe africain sur la formation statistique et les ressources humaines (AGROST)

Nations Unies. Commission Economique pour l'Afrique; Commission de l'Union Africaine; Nations Unies. Conseil Economique et Social; Nations Unies. Commission Economique pour l'Afrique; Commission de l'Union Africaine; Nations Unies. Conseil Economique et Social

"Nations Unies. Commission Economique pour l'Afrique; Commission de l'Union Africaine; Nations Unies. Conseil Economique et Social; Nations Unies. Commission Economique pour l'Afrique; Commission de l'Union Africaine; Nations Unies. Conseil Economique et Social (2016-11). Groupe africain sur la formation statistique et les ressources humaines (AGROST). NU. CEA Commission africaine de statistique(5ème session:2016, 28 nov. - 2 déc.:Abidjan, Côte d'Ivoire); NU. CEA Comité des directeurs généraux des offices nationaux de statistique(10ème session:2016, 28 nov. - 2 déc. :Abidjan, Côte d'Ivoire). Addis Abeba:. © NU. CEA,. "