A review on statistical development in Africa: resolutions adopted by the Conferences of Ministers (1958- 2018)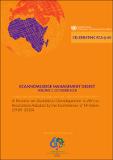 Published
2018-10
Author(s)/Corporate Author (s)
United Nations. Economic Commission for Africa;

Abstract
The ECA Knowledge Management Digest is a monthly publication that highlights new developments in the area of Knowledge Management and Library services of the Commission. The function is anchored in the Knowledge and Library Services Section (KLSS) within the Public Information and Knowledge Management Division. The ECA Knowledge Hub has access to open platforms that enable discovery, creation and sharing of knowledge which is supported by modern ICT infrastructure and trained staff that respond to the changing needs and new information seeking behaviors of users in the digital age. Collectively, this has maximized the impact of knowledge services as a catalyst to ECA's new vision of becoming "the premier think tank in Africa" which supports the realization of the UN sustainable Development Goals (SDGs) and the African Development Agenda 2063. This first Knowledge Management Digest (Volume 1), draws from the ECA Knowledge Repository and is published as a resource for the Sixth Statistical Commission for Africa (StatCom-Africa-VI) held from 1st – 4th October 2018 in Addis Ababa, Ethiopia and in celebration of the Commission @ 60. It provides a chronological compilation of the Conference of Ministers resolutions on statistical development in Africa from 1958 to 2018. This provides a critical Resource for analyzing the implementation of these decisions and their impact on socioeconomic policy development in Africa over the past six decades.
Citation
"United Nations. Economic Commission for Africa (2018-10). A review on statistical development in Africa: resolutions adopted by the Conferences of Ministers (1958- 2018). ECA Knowledge Management Digest. Vol.1, 36. Addis Ababa. © UN.ECA. https://hdl.handle.net/10855/24460"
Serial Title
ECA Knowledge Management Digest
Collections
Related items
Showing items related by title, author, creator and subject.