African Governance Report V: Natural Resource Governance and Domestic Revenue Mobilization for Structural Transformation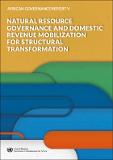 Published
2018-05
Author(s)/Corporate Author (s)
United Nations. Economic Commission for Africa;

Abstract
Africa is hugely endowed with diverse natural resources, including land and water for agriculture, forests for wood and non-wood forest products, and minerals, oil and gas for mining. For decades the direct exploitation and use of these natural resources have dominated the continent's economies and the livelihoods of most of its population and, to a lesser extent, its public domestic revenues. But Africa's overriding strategy of exporting commodities in their raw, non-valued-added form has failed to produce sustainable inclusive growth, improve people's wellbeing or diversify and transform its economies. These poor development outcomes reflect multi-decade challenges in natural resource governance. African Governance Report V examines efforts to improve the governance of Africa's abundant natural resources, with particular emphasis on strengthening natural resource governance institutions and frameworks for the enhancement of domestic revenue mobilization and engendering economic diversification and structural transformation on the continent. Case studies from eight African countries Botswana, Cameroon, Cote d'Ivoire, Egypt, Madagascar, Nigeria, Tanzania and Uganda buttress the diversity in natural resource governance. Those countries represent different geographical regions with diverse political, economic, social and environmental contexts. The report therefore addresses four broad issues. Resource-rich African countries' inability to transform their economies; The institutions for improving the development impact of Africa's natural resources; Development planning and African policy outcomes; and Raising domestic revenue in Africa.
Citation
"United Nations. Economic Commission for Africa (2018-05). African Governance Report V: Natural Resource Governance and Domestic Revenue Mobilization for Structural Transformation. Addis Ababa. © UN. ECA. "
Related items
Showing items related by title, author, creator and subject.