Country profile Egypt 2017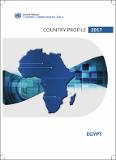 Published
2018-03
Author(s)/Corporate Author (s)
United Nations. Economic Commission for Africa;

Abstract
Following an average growth rate of 7 per cent from the fiscal year 2005/06 to 2007/08, and of over 5 per cent from 2007/08 to 2009/10, economic growth in Egypt slowed to 1.8 per cent in 2010/11, owing to the negative impact of social upheaval. Political instability and structural deficiencies in the economy including underdeveloped infrastructure, weak human capital, difficulty in gaining access to financing and an uncompetitive business environment, seriously affected growth from 2011 to 2014. The return of relative political stability and a review of the constitution in January 2014, along with presidential elections in June 2014, coupled with structural reforms, helped to revitalize the economy of Egypt to restore growth to pre-crisis levels, to reach 4.3 per cent in the fiscal year 2015/16. Despite an average growth rate of over 5 per cent from the fiscal years 2003/04 to 2009/10, Egypt has been unable to start any true structural transformation of its economy, which is still dominated by sectors where productivity gains have been relatively low. The authorities in Egypt are confronted with the dual challenges of reviving economic growth and consolidating public spending. Therefore, the reforms have focused on reducing subsidies for fuel, for instance, and controlling salary increases, in addition to better management of public finances. The following policy reforms were undertaken in 2014: first, tax reform to expand the tax base and ensure better collection of taxes; second, additional reductions in energy subsidies; third, better targeting of social policies, including money transfer programs; and, fourth, reform of the business environment, with significant improvement in investor protection.
Citation
"United Nations. Economic Commission for Africa (2018-03). Country profile Egypt 2017. Addis Ababa. © UN. ECA. "
Related items
Showing items related by title, author, creator and subject.