Country profile Botswana 2017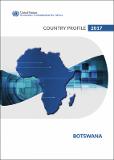 Published
2018-03
Author(s)/Corporate Author (s)
United Nations. Economic Commission for Africa;

Abstract
The economy of Botswana is highly dependent on the natural resources sector, mainly minerals. Accordingly, economic diversification is a priority in all national development programs and initiatives. The eleventh national development plan, passed by parliament in December 2016, is expected to anchor development planning up to the first quarter of 2023. It elaborates the national endeavor to diversify the economy away from minerals and to tackle other development challenges. Based on the theme "Inclusive growth for realization of employment creation and poverty eradication", the plan is aimed at tackling the high rates of poverty and unemployment and income inequality, which persist, even though the country recorded average real economic growth of 3.7 per cent over the period 2009-2016. The objectives of the plan are to be achieved through six priority areas: developing diversified sources of economic growth; human capital development; social development; sustainable use of natural resources; consolidation of good governance; and strengthening of national security supported by the implementation of an effective monitoring and evaluation system. The economy expanded in 2016 despite unstable economic growth globally, a key factor behind the contraction of the economy by 1.7 per cent in 2015. The growth of GDP, which at current prices amounted to P 169.7 billion in 2016, was supported by a strong economic rebound during the last quarter of the year, in which the economy expanded by 16.3 per cent as compared with the same quarter in the previous year.
Citation
"United Nations. Economic Commission for Africa (2018-03). Country profile Botswana 2017. Addis Ababa. © UN. ECA. "
Related items
Showing items related by title, author, creator and subject.