Country profile South Sudan 2017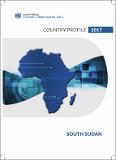 Published
2018-03
Author(s)/Corporate Author (s)
United Nations. Economic Commission for Africa;

Abstract
Economic growth in South Sudan fluctuated sharply between 2011 and 2016, mainly determined by the political crisis and the fluctuation in oil prices. Following a total shut down in oil production, the economy contracted by -46.1 per cent in 2012. After an agreement with Sudan on oil wealth sharing, production resumed, and growth returned to positive figures in 2013, reaching a high of 22.2 per cent in 2014. Growth decelerated in 2015 and 2016, approaching zero in 2016, reflecting underlying unresolved structural problems and the persistence of political conflicts. In 2016, the growth rate of South Sudan was 0.3 per cent, which was far below the average growth of 5.6 per cent for the sub region of Eastern Africa. South Sudan's most important trading partners, Uganda and Kenya, achieved growth of 2.3 per cent and 5.8 per cent, respectively, in 2016. Sudan, the other important neighbor to which South Sudan is still closely economically connected, attained only 4.7 per cent in 2016. The sharp decline in oil prices from 2014 to 2015 affected both the current account and government revenue, bearing down on regional currencies and creating inflationary pressures. This has had strong negative impacts on the most commodity-dependent countries of Eastern African, particularly South Sudan. Global oil prices are projected to rise slightly in 2018 to $56.0 from $ 53.0 in 2017, which will have a positive effect on the current account.
Citation
"United Nations. Economic Commission for Africa (2018-03). Country profile South Sudan 2017. Addis Ababa. © UN. ECA. "
Related items
Showing items related by title, author, creator and subject.