Country profile Seychelles 2017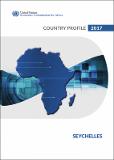 Published
2018-03
Author(s)/Corporate Author (s)
United Nations. Economic Commission for Africa;

Abstract
Seychelles has the highest per capita GDP on the African continent and ranks favorably on social indicators. Since independence on 29 June 1976, it has maintained fairly consistent economic growth. most of the millennium development goals were achieved, especially those relating to education, health and social development. A combination of factors, however, including substantial reductions in official development assistance, increased borrowing at commercial rates, accumulated debt arrears and a heavy reliance on the volatile fisheries and tourism sectors, has threatened the social achievements of past decades. Seychelles is developing a policy framework for sustainable development that includes vision 2032 and the forthcoming national development strategy 2018–2022. The country will take stock of existing strategic documents such as the Seychelles sustainable development strategy 2012–2020, mainstream the sustainable development goals and anchor the principles of the pioneering blue economy initiative. Since 2014, Seychelles has implemented the blue economy road-map, defining a pathway to prosperity, emphasizing sustainable use of its marine resources, an essential socioeconomic pillar for the country, and in line with its development vision.
Citation
"United Nations. Economic Commission for Africa (2018-03). Country profile Seychelles 2017. Addis Ababa. © UN. ECA. "
Related items
Showing items related by title, author, creator and subject.