Country profile Namibia 2017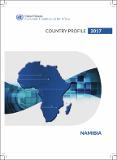 Published
2018-03
Author(s)/Corporate Author (s)
United Nations. Economic Commission for Africa;

Abstract
Though the Namibian economy has enjoyed growth over a prolonged period, the weakening of major economic sectors (agriculture, construction, quarrying and mining) dented economic performance in 2016. The economy was projected to contract further, from 1.1 per cent growth in 2016 to 0.6 per cent in 2017. The economy is expected to grow by a margin of 2.2 per cent and 3.1 per cent in 2018 and 2019, respectively, courtesy of a recovery in mining and quarrying and agriculture. A new policy framework is being implemented in Namibia with the intention of reversing the dent caused by recent high-profile corruption cases and poor service delivery in the public sector, leading to a slip in the country's rankings on the Afro barometer and transparency international's corruption perception index. The new policy framework should promote greater probity and accountability in the public service and among political office bearers and ensure strict implementation of the performance contract regime with the political office bearers and senior public servants, with clear targets, monitoring tools and performance benchmarks.
Citation
"United Nations. Economic Commission for Africa (2018-03). Country profile Namibia 2017. Addis Ababa. © UN. ECA. "
Related items
Showing items related by title, author, creator and subject.