Country profile Congo 2017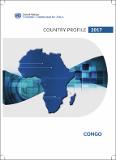 Published
2018-03
Author(s)/Corporate Author (s)
United Nations. Economic Commission for Africa;

Abstract
In the last decade, the Congo has recorded some of the highest growth in the sub region, with average growth in real gross domestic product (GDP) of around 5 per cent per year between 2005 and 2014.1 growth has slowed in the past four years or so, however. The Congolese economy, like that of the entire sub region, is being affected by falling prices for the principal commodities, including oil. Real GDP contracted by 1.6 per cent in 2016 after growing by 2.6 per cent in 2015. According to the forecasts of the directorate-general of economy, it is expected to recover to grow by 1.7 per cent in 2017. The country's production structure, which is essentially centered on oil extraction, leads to development that is relatively non-inclusive. Economic diversification is therefore crucial to improving the quality of growth, creating a sufficient number of jobs and reducing poverty significantly. It is also crucial to reducing the Congolese economy's vulnerability to external shocks and the risks associated with the economy's excessive reliance on oil. To achieve this, the country must commit to supporting non-oil sources of growth. A combination of uncultivated arable land and growing demand for agricultural products indicates that agricultural development should be one of the pillars of the Congolese government's economic diversification strategy.
Citation
"United Nations. Economic Commission for Africa (2018-03). Country profile Congo 2017. Addis Ababa. © UN. ECA. "
Related items
Showing items related by title, author, creator and subject.