Responsible mineral supply chains for ASM in African: the case of conflict minerals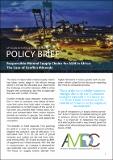 Published
2018
Author(s)/Corporate Author (s)
United Nations. Economic Commission for Africa. Special Initiatives Division. African Minerals Development Center;

Abstract
The issue of responsible mineral supply chains has taken center stage in the African mining sector in the last few decades as a response to the challenge of conflict minerals. ASM is often fraught with controversy and this is especially the case with conflict minerals. Conflict minerals have attracted world attention in view of concerns over abuse of revenues that come from high value minerals that are extracted in conflict zones of the world. It has been documented that mineral trade, taxation and transportation from certain regions provide an income to groups that violate environmental and human rights and perpetrate corruption. The focus on supply chains started from higher demands in luxury goods such as jewelry, which called for full disclosure regarding the mine-to-consumer process. A lack of transparency in supply chains can tarnish brand image for companies relying on gold or precious stones. From an African perspective, it is important to determine this impact and also begin to chart a way forward given the ideals of the Africa Mining Vision (AMV).
Citation
"United Nations. Economic Commission for Africa. Special Initiatives Division. African Minerals Development Center (2018). Responsible mineral supply chains for ASM in African: the case of conflict minerals. Addis Ababa. © UN. ECA. https://hdl.handle.net/10855/24428"
Serial Title
African Minerals Development Centre Policy Brief(AMDC)
Collections
Related items
Showing items related by title, author, creator and subject.