ASM and sustainability in Africa: linkage as a sustainable livelihood tool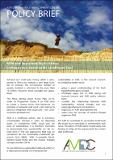 Published
2018
Author(s)/Corporate Author (s)
United Nations. Economic Commission for Africa. Special Initiatives Division. African Minerals Development Center;

Abstract
Artisanal and small-scale mining (ASM) is widespread in Africa and exploits a very large number of minerals. The conservative number of people involved is estimated to be more than 10 million. However, these estimates are speculative. The Africa Mining Vision Action Plan (2011), under its program cluster 4 on ASM, aims to "create a mining sector that harnesses the potential of artisanal and small scale mining to advance integrated and sustainable rural socioeconomic development." ASM is a livelihood activity that is inherently unsustainable because it relies on depleting assets. In considering ASM's scope and the issue of sustainability, it is therefore important to demonstrate how sustainability can be derived from it. The key approaches that may be considered are the Sustainable Livelihoods Approach (SLA); Sustainable Development Goals (SDG); and the mineral linkages concept.
Citation
"United Nations. Economic Commission for Africa. Special Initiatives Division. African Minerals Development Center (2018). ASM and sustainability in Africa: linkage as a sustainable livelihood tool. Addis Ababa. © UN. ECA. https://hdl.handle.net/10855/24427"
Serial Title
African Minerals Development Centre Policy Brief(AMDC)
Collections
Related items
Showing items related by title, author, creator and subject.