Artisanal and small-scale mining policy guidance for the country mining vision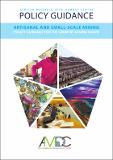 Published
2018
Author(s)/Corporate Author (s)
United Nations. Economic Commission for Africa. Special Initiatives Division. African Minerals Development Center;

Abstract
In Africa, the number of people associated with ASM activities is estimated to be more than 9 million and about 50% of these are women. There are many reasons why the rural poor end up in ASM. These include historic traditional practices, seasonal income augmentation, and coping strategies for economic shock resulting from amongst other things drought, conflict, retrenchments, and low commodity prices. This guidance notes, a good ASM policy focuses on solving problems that the country's citizens, state and non-state actors encounter while creating a livelihood in artisanal mining. The policy must encourage investment and sustainability and introduce efficiency and equity while improving the social welfare of communities who derive their livelihood from the sector. The policy should also direct the State towards its obligations and service delivery towards the sector. Given the multi-faceted nature and complexity of ASM, the policy should provide an integrated and holistic framework that speaks to ASM through the entire value/supply chain, socio-economic issues and legal framework. This Guidance Note is a reference framework for the development of an Artisanal and Small-scale Mining (ASM) Policy that is aligned to the aspirations of the Africa Mining Vision (AMV). The ASM Policy Guidance Note is required to support the development of ASM Policy as part the AMV domestication through the Country Mining Vision process (CMV). It can also be seen as a recognition of the importance of the ASM in Africa with respect to socioeconomic development on the continent.
Citation
"United Nations. Economic Commission for Africa. Special Initiatives Division. African Minerals Development Center (2018). Artisanal and small-scale mining policy guidance for the country mining vision. Addis Ababa. © UN. ECA. https://hdl.handle.net/10855/24425"
Serial Title
African Minerals Development Centre Policy Brief(AMDC)
Collections
Related items
Showing items related by title, author, creator and subject.