Macroeconomic and social developments in Eastern Africa 2018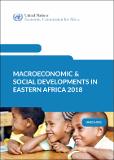 Published
2017-03
Author(s)/Corporate Author (s)
United Nations. Economic Commission for Africa. Sub regional office for Eastern Africa;

Abstract
The economic performance of Eastern Africa has been impressive in recent years, with an average annual growth rate of 6.5 per cent between 2012 and 2016 much higher than the African average and even outpacing East Asia. The people of the region live longer and healthier, receive better education, and enjoy an improved quality of life compared with just a generation ago. These positive results are largely attributable to increased state capacity, as governments in the region have rebuilt their institutions after the 'lost decades' of the 1980s and 1990s. Where state action has been effective, improvements have been largest. Despite the positive developments, there are a number of challenges looming on the horizon. Amid the severe drought conditions which afflicted parts of the region. One of the key questions this report asks is whether the region is about to enter into a new dynamic, with slower growth rates and growing developmental challenges. To avoid such a scenario, some key constraints to growth would need to be addressed. Firstly, a weak manufacturing sector has made the regional economy less resilient. Secondly, this report stresses the need to continue improving the business environment. Thirdly, the prospects for economic diversification and industrial growth are greatly improved by the necessary investments in infrastructure. Fourthly, in the context of structural current account deficits, regional economies have to better manage exchange rate fluctuation. Fifthly, the region is still under performing in terms of exports, as evidenced by the large trade deficits sustained by most countries.
Citation
"United Nations. Economic Commission for Africa. Sub regional office for Eastern Africa (2017-03). Macroeconomic and social developments in Eastern Africa 2018. Kigali. © UN. ECA. "
Collections
Related items
Showing items related by title, author, creator and subject.
Informality and inequality in Africa: exploring the linkages

United Nations. Economic and Social Council; United Nations. Economic Commission for Africa

"United Nations. Economic and Social Council; United Nations. Economic Commission for Africa (2017-09). Informality and inequality in Africa: exploring the linkages. UN. ECA Committee on Gender and Social Development(2nd session:2017, Oct. 11 - 12: Addis Ababa, Ethiopia). Addis Ababa. © UN. ECA. "

Country profile Rwanda 2015

United Nations.Economic Commission for Africa.Eastern Africa Subregional Development Centre(SRDC-EA)

"Mold, Andrew; United Nations.Economic Commission for Africa.Eastern Africa Subregional Development Centre(SRDC-EA) (2016-03). Country profile Rwanda 2015. Addis Ababa:. © UN. ECA,. "